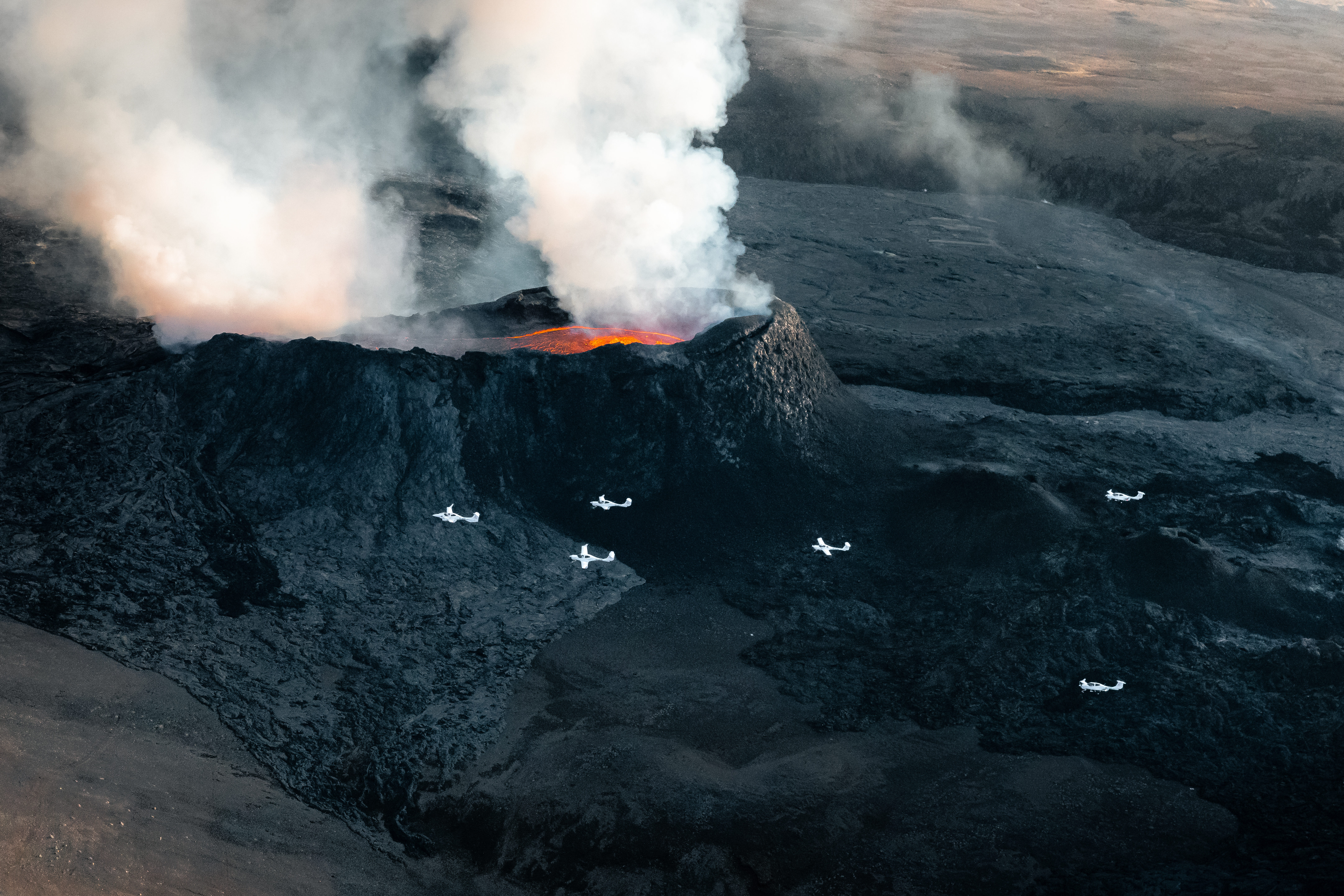 Learn to fly on your own terms
Iceland Aviation Academy teaches the theoretical (ground) courses of the Commercial Pilots Course on-site. All of the teachers at the school have a wide range of knowledge and experience from all areas of aviation. We aim to be at the forefront of teaching and utilize the latest learning technologies. Students have access to advanced teaching systems and equipment as well as to a fleet of the most sophisticated training aircraft in Iceland.
The theoretical courses are two terms long and are taught both on-site and via distance learning, with the on-site course being taught both at Keilir main campus and practical courses at both Keflavik International Airport and Reykjavik Domestic Airport.
Entry Requirements
Prospective students must be at least 18 years old at the time courses start
A Private Pilot License
Secondary school education is required along with proficiency in English, Math and Physics.
Foreign nationals from a country outside of the EEA (EU) and/or EFTA, who plan to stay in Iceland for more than three (3) months, must have a valid residence permit. Find more information about residence permits and student visa.
Students are required to have a Class 1 medical certificate, general medical fitness, good eyesight and hearing.
As a student pilot, you need to present proof of no criminal record and will be subject to a background check by the Icelandic police authority in order to gain access permits to airports.
Ground Training
The theoretical courses take place at the headquarters of Keilir at Ásbrú. There you can find first-class teaching facilities, a diverse college life and a cafeteria. In the classroom, students study together under the guidance of experienced teachers in a stimulating environment. The location of Keilir also provides numerous opportunities for field trips and visits to businesses that operate in the immediate surroundings of an international airport. Throughout the course, many seminars are held – led by guest lecturers from various sectors of the aviation industry.
The theoretical course is two terms long and students are able to commence their studies on either term, that is, in the autumn or in the spring.
Distance learning in the theoretical course can be started at any time. Theoretical training takes place at home over CBT software and students have access to an instructor during the spring and fall semesters.
All subjects are spread equally across the two terms with each term ending with school and Civil Aviation Administration examinations in those subjects covered during the term. In this way, students can better focus on individual subjects and achieve more from their studies.
For distance learning, the subjects are divided into two groups of seven and are taught in classrooms twice each semester.
Subjects
Aviation Law and Air Traffic Control Procedures
General Knowledge of Aircraft - airframes and systems, electrical systems, engines, emergency equipment
General Knowledge of Aircraft – Measuring instruments
Mass and Balance - Airplanes / Helicopters
Aircraft Performance
Planning
Human Performance and Limitations
Flight Meteorology
General Navigation
Navigation Technology
Flight Procedures
Theory of Flight
Communications
Teaching Assessment and Requirements
Assessments are conducted regularly in both the form of short tests and course exams. The minimum pass grade is 75% and examinations are "closed books" (that is, books and other materials are not permitted during the examination).
Entitlement
Students gain the right to undertake the theoretical Commercial Pilots examinations as administered by the Icelandic Civil Aviation Administration.
Flight Training
The Commercial Pilot Licence (CPL)
The aim of this module is to train the holder of a Private Pilot's Licence the skills necessary to be awarded the Commercial Pilot Licence.
Length: a minimum of 25 hours flight instruction or 15 hours if the student has successfully completed the Basic Instrument Flight Module.
Before the commencement of the course the student will:
Have been awarded the Private Pilot Licence with a night-time rating in accordance with the ICAO Annex 1.
Have flown 150 hours as a pilot
Have completed training on a two-engine aircraft (since such an aircraft may be used in skills assessment tests)
Have a strong background in mathematics, physics and English. Students may present their matriculation certificate as proof of ability; alternatively, students may undertake the entrance examination at Keilir.
Have a first class medical certificate
Visual Flight (VFR) Training
Pre-flight operations, including determination of mass and balance, and airplane inspection and servicing
Airports and aerodrome traffic circuit, approach and landing. Use of checklist, precautions and measures to avoid collision
Aerodrome traffic circuit, simulated engine failure during take-off and after take-off
Takeoffs at maximum performance (short field and obstacle clearance), short-field landing
Take-offs and landings in normal conditions and with crosswinds
Flight at critically high airspeeds, recognition of and recovery from spiral dives
Flight at critically slow airspeeds, recognition of and recovery from incipient and full stalls
Flight by reference solely to instruments, including the completion of 180 degree turn
Flying over land using visual reference, dead reckoning and radio navigation aids
Flying whilst in a state of emergency, including simulated airplane equipment malfunctions
Flights to and from airports with air traffic control guidance and over control area (CTA), compliance to air traffic services (ATS), communication procedures and phraseology
Basic Instrument Flight Training
Basic Exercises in IFR training, straight level flight; air speed and power changes, maintain straight and level flight, turns with 15 ° and 25 ° angle of bank, left and right, turn in accordance to the agreed plan
Repetition of previous exercises, also climb and descend during flight, maintain heading and speed, return to level flight, climbing and descending turns
Instrument Flight Training – hypothetical flight circuit
Repetition of the previous exercises, sharp corners with a 45 ° bank, practice response to unwanted air terminals
Navigate in the air in accordance with navigational equipment, VOR, NDB. To fly accurately onto and maintain compass headings (QDM, QDR)
Teaching Material
Aircraft manuals and Standardization Manual for each aircraft. Teaching plan for Commercial Pilot exam and flight training in accordance with training book.
Teaching Assessment and Requirements
Continuous assessment takes place throughout the course; however the flight instructor will make a final assessment of the student at the end of the course – whereby the student is evaluated against the key skill requirements needed to be awarded the Commercial Pilots Licence.
Entitlement
Students gain the right to undertake the practical examination as administered by the Icelandic Civil Aviation Administration.
Revision/Continuous Development
Pilots seeking to update or refresh their knowledge and skills in aviation in preparation for taking an assessment test with the CAA are able to do so at Keilir. Pilots are able to book a lesson with a flight instructor who will then prepare a plan of study.